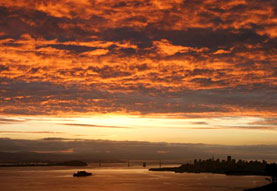 What We Do
Our principal business is publishing— whether it's high quality books of photography, or award winning health and medical websites, Epicenter has a history of editorial excellence that we apply to all our projects.
About Epicenter Communications, Inc.
Epicenter Communications was founded in 1991 by Dr. Matthew Naythons MD, a physician and an award-winning Time magazine photojournalist. The company produces prestigious photography books, and also owns a portfolio of premium domain names, creating a number of health and medical information books, as well as award-winning websites such as Alzheimers.com, Depression.com, Diabetes.com, Disease.com, Heal.com, Malaria.com, MedNews.com and Obesity.com.
The company's book packaging division has produced dozens of documentary photography projects, including the Official Barack Obama Inaugural Book, both official Clinton Presidential inaugural books, the official George W. Bush Presidential inaugural book, and coffee table books on a variety of subjects, including Christmas around the world, the war in Sarajevo, and the auto races at Daytona.
Executive Team
Matthew Naythons MD - Founder and President
After graduating from medical school, Dr. Naythons combined hospital ER medicine with an award-winning career as an international photojournalist for Time magazine. After witnessing the exodus of Cambodian refugees from the genocide of Pol Pot, he formed and led International Medical Teams (IMT), a mobile relief organization that provided medical care to Cambodian refugees and displaced Thai villagers.
In 1991, Naythons founded Epicenter Communications and is President and CEO. Epicenter created prestigious photojournalism, multimedia, and Internet projects with a global reach. Projects included The Face of Mercy: A Photographic History of Medicine at War, with an introduction by William Styron, Clinton: A Portrait of Victory--the first best-selling book to have an accompanying CD-ROM, Christmas Around the World, the first coffee table book with an accompanying website and reader community, and the official presidential inaugural books for Bill Clinton, George Bush and Barack Obama.
In 1995, under Naythons' direction, Epicenter formed two Internet health divisions: NetMed and NetHealth. Epicenter created some of the first disease-specific health sites on the Internet, including innovative websites such as Alzheimers.com, Diabetes.com, Depression.com, and Obesity.com.
In January 1999, Naythons joined PlanetRx and became Vice President and Publisher of the online pharmacy while Epicenter continued to develop independent medical sites, and produce books such as SpeedWeek: 10 Days at Daytona. In 2002, Naythons co-founded EpiCom media, creating large scale, photojournalism projects such as A Day in the Life of the United States Armed Forces.
In 2006, Naythons co-founded Argonaut Ventures LLC, which funds and takes an active role in developing early stage companies. Epicenter Communications continues to develop websites such as Heal.com, Malaria.com and MedNews.com.
Daniel Kunstler - Chief Operating Officer
Daniel Kunstler is a finance and operations professional, formerly of JP Morgan, where he spent nearly a quarter of a century, was assigned successively to corporate finance and equity research, and rose to the rank of Managing Director. Since leaving Morgan in 2002, he has taught finance, served on the board of trustees of several educational nonprofits and collaborated as a principal in Epicenter Communications. Born in New York, he is a dual graduate of the University of Brussels, in Economics and History of Art.
Tom Walker - Creative Director
Walker has been involved in the publishing industry for over 25 years, starting with A Day in the Life of Japan and the bestselling A Day in the Life of America. Working with Epicenter he has been the creative director of A Day in the Life of the United States Armed Forces, A Day in the Life of the American Woman, A Day in the Life of Africa as well as inaugural books for G.W. Bush and The Official Barack Obama Inaugural Book.
Dawn Sheggeby - Vice President, Editorial
Sheggeby has led more than a dozen large-scale illustrated book projects over the past fifteen years, coordinating the work of hundreds of distinguished photojournalists, writers and artists.
She was the editorial director of A Day in the Life of the United States Armed Forces, and co-directed a national tour of three photo exhibits based on the project to 38 museums and military bases. She was co-author and project director of A Day in the Life of the American Woman, photographed by 50 leading female photographers; and the senior editor of A Day in the Life of Africa. Sheggeby has been collaborating with Matthew Naythons since 1989, and their past books together have included the award-winning Sarajevo: Portrait of the Siege; The Mission: Inside the Church of Jesus Christ of Latter-day Saints; The Face of Mercy; Clinton: Portrait of Victory; and all five official Presidential Inaugural books, including The Official Barack Obama Inaugural Book.
Peter Goggin - Vice-President, Custom Publishing and Online Media
Peter Goggin has been a leader in the development of online content and communities since 1995, and built some of the first vertical community health information websites online, including Diabetes.com, Alzheimers.com, Depression.com, Obesity.com and others.
From 1999-2001, Goggin led the Project Management and Business Analyst teams in developing online pharmacy PlanetRx.com during the company's start-up phase, and through its IPO. He currently manages Epicenter's Custom Publishing business as well as software development and integration for Epicenter's online media properties, including the design and production of the Official Barack Obama Inaugural Album, ObamaPhotoBook.com, Heal.com, Malaria.com, and MedNews.com. He is also a founding Partner of Argonaut Ventures.